Le festival international Présence autochtone
2022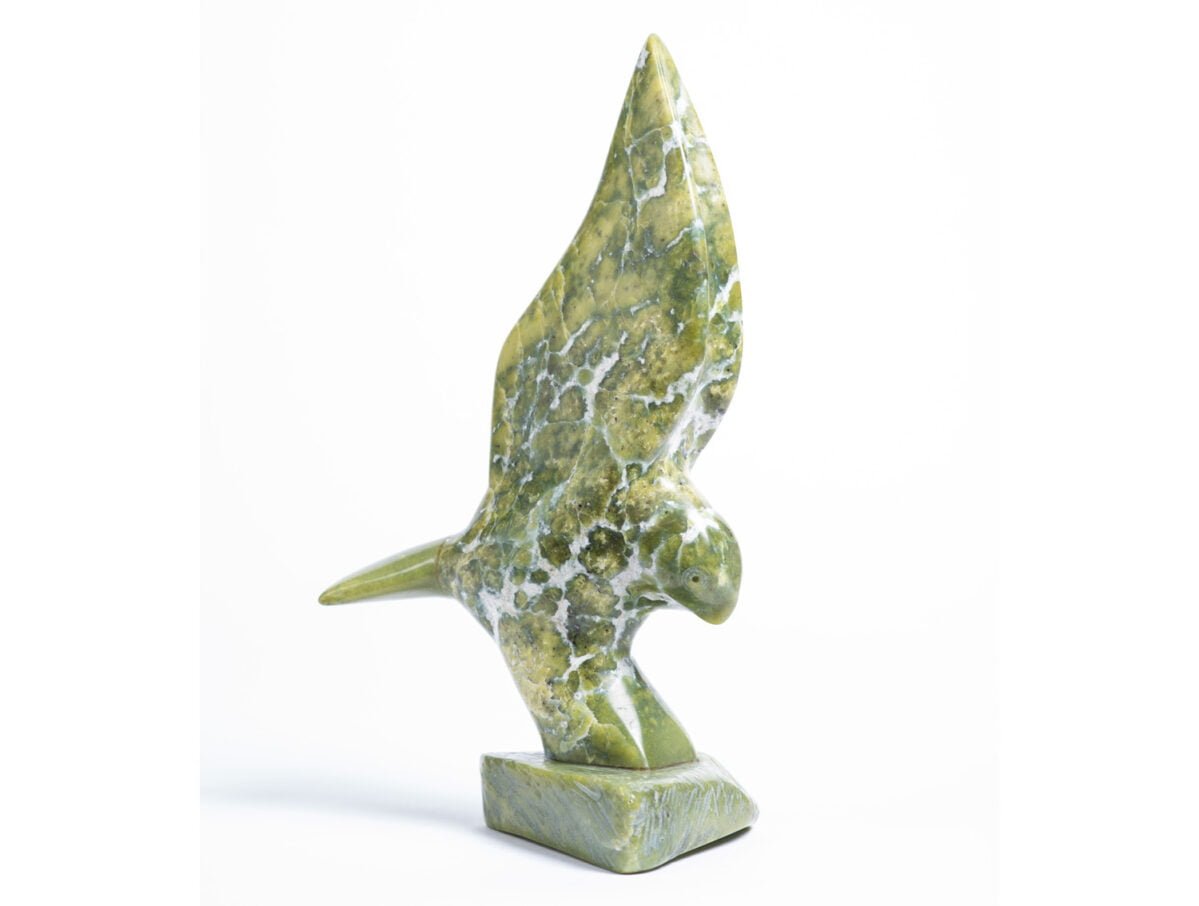 LES PRIX DU FESTIVAL
Les fameuses statuettes du festival du film et de la vidéo autochtones sont l'œuvre de Mattiusi Iyaituk, un des plus grands sculpteurs inuits. Ce sont des moulages en bronze d'un original en stéatite représentant un épervier. Il s'agit d'une création exclusive pour Présence autochtone.
Les « Mattiusis » accompagnent les trois grandes récompenses décernées annuellement par le festival :
• le premier prix Rigoberta-Menchu (prix social)
• le premier prix Teueikan (prix artistique)
• le prix reconnaissance APTN (à un cinéaste autochtone qui s'est illustré durant l'année précédente)
Membres du jury 2022
Rodney Saint-Éloi, Nadia Myre, Maya Menchu, Leo Koziol, Paula Baeza et Carlos Ferrand
Meilleure direction photo
El Gran Movimiento, Kiro Russo, Bolivie 2021
La présente atteste que le prix Meilleure direction photo a été décerné à El gran movimiento.
Mention spéciale : Returning Home, Sean Stiller, Canada 2021
Meilleur court international
Prix: Flores de la llanura, Mariana X. Rivera, Mexique 2021
Le souvenir d'une femme assassinée semble ne tenir qu'à un fil, mais sur la trame du récit se construit peu à peu avec les mains des artisanes une toile mémorielle pour que rien ne soit oublié. Un souffle poétique traverse de part en part ce film dédié aux tisserandes de la nation Amuzgo et à la cause des femmes.
Flores de la llanura se mérite le Prix du Meilleur court international.
Mention spéciale: Háldi, Ann Holmgren, Norvège 2021
Meilleur court canadien – Prix Radio-Canada Espaces autochtones (oeuvres réalisées par des cinéastes autochtones situés au Canada)
Un montant de 2500$ sera remis à Germaine Arnattaujuq, selon la requête de ses co-réalisateurs.
Prix : Chanson de l'Arctique Germaine Arnattaujuq, Neil Christopher, Louise Flaherty, Canada 2021
Pour un remarquable film où le dessin animé et le chant inuit se conjuguent dans une évocation des débuts du monde selon la cosmovision inuite, Chanson de l'Arctique se voit attribuer le prix Radio-Canada Espaces Autochtones décerné au Meilleur court métrage canadien.
Mention spéciale : Imalirijit, Vincent L'Hérault, Tim Anaviapik Soucie, Canada – Québec 2022
Meilleur documentaire
Apenas el sol (Nothing But The Sun), Arami Ullón, Paraguay 2021
Pour ce portrait d'un homme infatigable qui, seul, entreprend la tâche cyclopéenne de créer sur cassettes une encyclopédie sonore d'une culture ancienne dont quelques survivants gardent encore la mémoire; pour l'hommage qui est rendu à l'acharnement archivistique d'un héros solitaire de la résistance culturelle autochtone; pour la discrète, mais néanmoins implacable condamnation du colonialisme ethnocidaire;
Apenas el sol se mérite le prix du meilleur documentaire.
Prix international de la Relève autochtone Main Film
Le grand Prix de 1000$ est attribué à Spirit Emulsion de Siku Allooloo
Pour une œuvre expérimentale bien maîtrisée, d'où émane une grande poésie visuelle et sonore, Spirit Emulsion, réalisée par Siku Allooloo, se mérite le prix de la Relève autochtone décerné par Main Film.
Et une mention spéciale de 500$ est de nouveau offerte cette année pour Liremu Barana de Elvis Caj
PRIX APTN dédié à un(e) cinéaste autochtone qui s'est distingué(e) pendant l'année
Prix: Wildhood, Bretten Hannam, Canada
Narrée avec doigté, humour et cœur, l'histoire d'un jeune homme en quête de son identité. Merveilleux et novateur, romantique et inspiré, faisant progresser à la fois le cinéma autochtone et le cinéma queer, à contrecourant du pessimisme ambiant, Wildhood, en ces temps troublés, ose montrer l'éclosion d'un amour heureux. Et se mérite ainsi le prix reconnaissance APTN.
Mention spéciale: Angakusajaujuq : l'apprentie chamane, Zacharias Kunuk, Canada
Mention spéciale: Meneath : The Hidden Island of Ethics, Terril Lee Calder, Canada
Prix Rigoberta Menchú / Communautés
Grand prix : Powerlands, Ivey Camille Manybeads Tso, Canada États-Unis
Contre le banditisme écocidaire des multinationales, les peuples autochtones se dressent. Témoin du désastre causé par la Peabody Corporation dans la Black Mesa, la réalisatrice de Powerlands va à la rencontre d'autres organisations autochtones en Colombie, au Mexique, aux Philippines et à Standing Rock, menant sur leur propre territoire la même lutte que les Navajos ont eu à soutenir contre une industrie minière destructrice de l'environnement. De ce parcours planétaire, elle a tiré un film mobilisateur qui se mérite le Grand Prix Rigoberta-Menchú.
2e prix : Tystnaden i Sápmi, Liselotte Wajstedt, Norvège 2022
En dénonçant les violences sexuelles qui ont cours dans une communauté autochtone tissée serrée, Marion and Ida ont fait preuve d'un courage exemplaire. Ce film accompagne et documente la démarche difficile mais nécessaire de femmes samies pour briser le carcan oppresseur de l'omerta et entreprendre une reconstruction personnelle suite au trauma de l'agression, et se mérite le deuxième prix Rigoberta-Menchú.
Prix Teueikan / Création
Grand Prix : Utama, Alejandro Loayza Grisi, Bolivie 2022
Pour la dimension épique et écologique que prend l'émouvante histoire d'amour de Virginio et Sisa, vieux couple éleveur d'alpacas dans l'altiplano bolivien, alors que l'esprit de la terre nourricière ne répond plus à l'appel des humains et que la force des anciens rituels semble impuissante face à la dure réalité des changements climatiques ;
Le jury du 32e Festival international Présence autochtone accorde le Grand Prix Teueikan à Utama, d'Alejandro Loayza Grisi.
2e prix : El Gran Movimiento, Kiro Russo, Bolivie 2021
Dans le labyrinthe des rues de La Paz, un mal court à la fois mystérieusement démoniaque et prosaïquement médical. La ville, grande balafre paysagère, devient le théâtre des tourments de Elder qui devra chercher guérison dans la tradition indigène, rejetée vers les marges de la cité, mais qui apparaît comme l'unique planche de salut. Pour un magnifique clair-obscur avec ses sinueux détours, entre réalité et fiction, entre magie ancienne et maux du présent, El gran movimiento se mérite le deuxième prix Teueikan accordé par le jury du 32e Festival international Présence autochtone.
Prix d'accomplissement historique exceptionnel :
Vincent Carelli
Adeus, Capitão Vincent Carelli, Brésil 2022, 178m
En tant que documentariste, réalisateur, monteur, ethnologue, activiste, défenseur des droits de la personne, Vincent Carelli a dédié sa vie à la défense et à l'empouvoirement des peuples autochtones du Brésil. Il a fondé, et dirige toujours, Video nas Aldeias, une association qui a permis de former et d'outiller de nombreux réalisateurs issus des communautés des Premières Nations dans la souveraine saisie audiovisuelle de leurs réalités.
Le Festival international Présence autochtone, en association avec l'Indigenous Media Initiatives, remet à Vincent Carelli et à Video nas Aldeias un prix d'accomplissement historique exceptionnel.
BOURSE TRILLION 2022
Maïlys Flamand
Par la diversité des médiums qu'elle emprunte, par son pas assuré dans l'exploration graphique et sémantique, pour la simplicité pleinement assumée de la ligne droite continue, par son implication communautaire exemplaire dont l'impact de l'illustration réclamant justice pour Joyce Echaquan témoigne éloquemment, Maïlys Flamand se mérite la bourse Trillion 2022.
PRIX DUDE 2022
Kwahiatonhk!
Le prix Dude, dédié à une démarche innovante et originale dans le domaine le champs des arts et des cultures des peuples premiers, est remis en 2022 à Kwahiatonhk! pour la joyeuse audace dont l'association fait preuve dans la promotion de la littérature autochtone, notamment par la tenue d'un salon du livre des Premières Nations et la création d'un phénoménal bingo littéraire.