The Montreal First Peoples' Festival
2022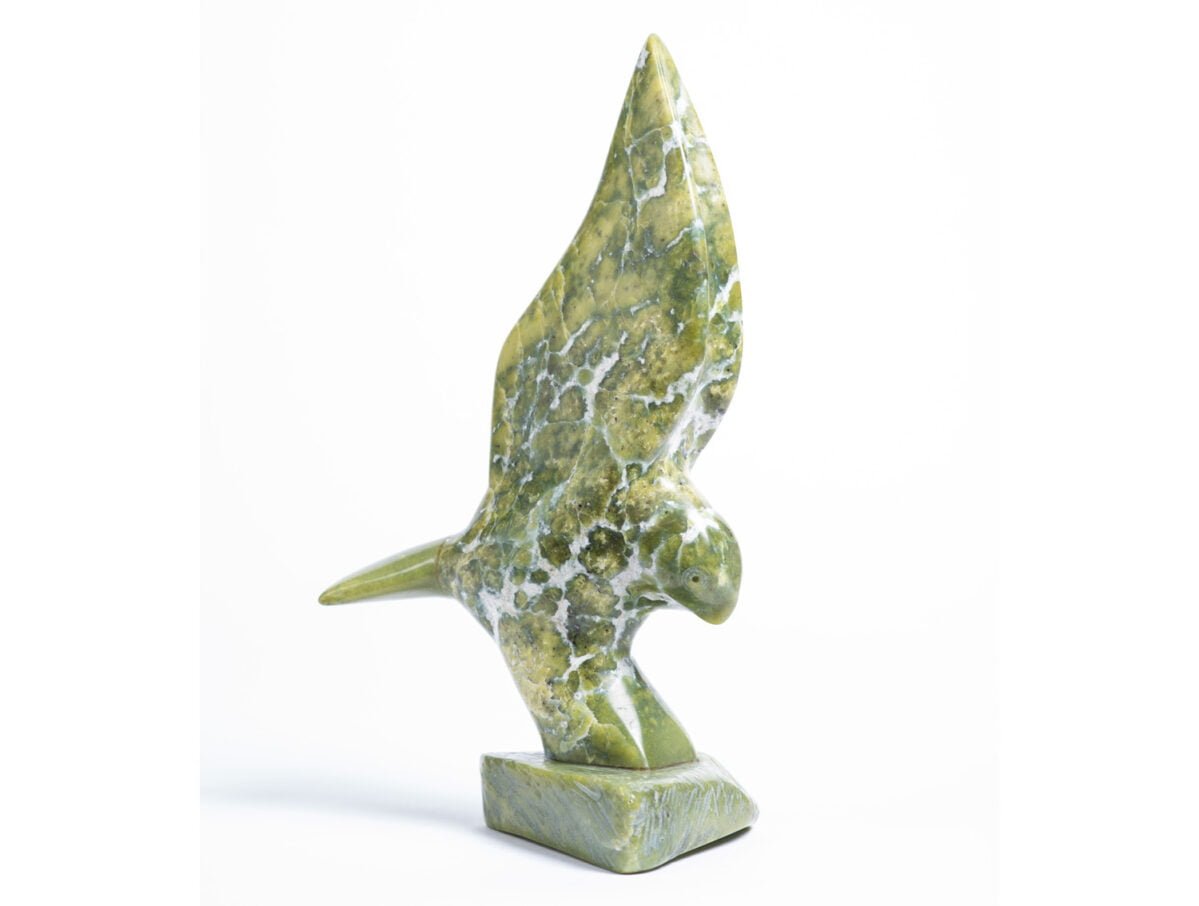 FESTIVAL PRIZES
The famous statuettes of the international Indigenous film and video festival are the work of one of the greatest Inuit sculptors, Mattiusi Iyaituk. Cast from an original soapstone, they represent a hawk. They have been crafted exclusively for the Montréal First Peoples Festival.
The «Mattiusis» go with the three main annual awards of the festival:
• First Rigoberta Menchu Award (social prize)
• First Teueikan Award (artistic prize)
• APTN Award (to an indigenous filmmaker who had a special accomplishment during the previous year)
Jury members 2022
Rodney Saint-Éloi, Nadia Myre, Maya Menchu, Leo Koziol, Paula Baeza and Carlos Ferrand
BEST CINEMATOGRAPHY
El Gran Movimiento, Kiro Russo, Bolivie 2021
This is to certify that the Best Cinematography Award has be presented to El Gran Movimiento.
Special mention: Returning Home, Sean Stiller, Canada, 2021
BEST INTERNATIONAL SHORT FILM
Flores de la llanura, Mariana X. Rivera, Mexique 2021
While the memory of a murdered woman seems to be hanging by a thread, the story slowly weaves, through the expert hands of craftswomen, a memorial web of remembrance, so that nothing is forgotten. A poetic spirit runs through this film dedicated to the weavers of the Amuzgo Nation and to women's rights. Flores de la llanura is presented with the Best International Short Film Award.
Special mention: Háldi, Ann Holmgren, Norway, 2021
BEST CANADIAN SHORT FILM - RADIO-CANADA ESPACES AUTOCHTONES AWARD (films directed by Indigenous filmmakers based in Canada)
Chanson de l'Arctique Germaine Arnattaujuq, Neil Christopher, Louise Flaherty, Canada 2021
For a remarkable film in which animation and Inuit singing combine to evoke the Inuit cosmovision of the beginnings of the world, Chanson de l'Arctique is presented with the Radio-Canada Espaces Autochtone Best Canadian Short Film Award.
Special mention: Imalirijit, Vincent L'Hérault, Tim Anaviapik Soucie, Canada – Québec, 2022
MAIN FILM EMERGING INDIGENOUS FILMMAKER AWARD
The Grand Prize of $1000 is given to Spirit Emulsion, directed by Siku Allooloo.
For a well mastered experimental work, from which emanates great audiovisual poetry, we present Siku Allooloo with Main Film's Emerging Indigenous Filmmaker Award for Spirit Emulsion.
There is another special mention this year, and it goes to Elvis Caj who wins $500 for Liremu Barana.
BEST DOCUMENTARY
Apenas el sol Nothing But The Sun, Arami Ullon, Paraguay 2021
For her portrait of an unwavering man who undertakes the Herculean task of creating, all by himself, a sound encyclopedia of an ancient culture preserved only in the memory of a select few; for the tribute she paid to the archival tirelessness of a solitary hero of Indigenous cultural resistance; for her subtle yet relentless condemnation of ethnocidal colonialism, we present Apenas el sol with the Best Documentary Award.
APTN AWARD recognizing the outstanding work of an Indigenous filmmaker this year.
Wildhood, Bretten Hannam, Canada
Skillful, funny, and heart-warming depiction of a young man's quest for identity. Wonderful and innovative, romantic and inspired, pushing Indigenous and queer cinema forward, and bucking the current trend of pessimism in these dark times, Wildhood dares to show burgeoning and positive love. For these reasons, we present Wildhood with the APTN Award.
Special Mention: Angakusajaujuq: The Shaman's Apprentice, Zacharias Kunuk, Canada
Special Mention: Meneath: The Hidden Island of Ethics, Terril Lee Calder, Canada
RIGOBERTA MENCHU / COMMUNUNITIES AWARD
Grand Prize: Powerlands, Ivey Camille Manybeads Tso, Canada, United States
Against the ecocidal banditry of multinational corporations, Indigenous peoples are taking a stand. Witnessing the disaster caused by the Peabody Corporation in the Black Mesa, Powerlands' director went out to meet other Indigenous organizations leading similar battles in Colombia, Mexico, the Philippines, and at Standing Rock, as the Navajos, who've had to fight an environmentally destructive mining industry. From this global journey, she produced a mobilizing film for which she is awarded the Rigoberta-Menchú Grand Prize.
2nd Prize: Tystnaden i Sápmi, Liselotte Wajstedt, Norway
Marion and Ida have shown great courage in speaking out against sexual violence in their tight-knit Indigenous communities. This film supports and documents the hard but necessary journey of Sami women as they break the oppressive shackles of imposed silence and start rebuilding their sense of self after experiencing traumatic violence. For these reasons, we award it the 2nd Rigoberta-Menchú Prize.
TEUEIKAN / CREATION AWARD
Grand Prize: Utama, Alejandro Loayza Grisi, Boliva, 2022
For the epic and ecological dimensions of the moving love story of Virginio and Sisa, an old alpaca breeder couple living on the Bolivian altiplano, that develops as the spirit of Mother Earth appears to no longer be answering the call of humanity and old rituals seem powerless to stop the harsh reality of climate change, the jury of the 32nd Montreal First People's presents Alejandro Loayza Girsi with the Teueikan Grand Prize for Utama.
2nd Prize: El Gran Movimiento, Kiro Russo, Bolivia, 2021
In La Paz's maze-like streets, an evil both mysteriously demonic and prosaically medical runs free. The scarred landscape of the city becomes the playing field for Elder's torments, who will have no choice but to turn to Indigenous traditions as his last lifeline as he tries to heal while being pushed to the outskirts of the city. For its gorgeous chiaroscuro, its sinuous detours that interlace reality and fiction, ancient magic and present-day pains, the jury of the 32nd Montreal First People's Festival presents El Gran Movimiento with its 2nd Teueikan Prize.
Lifetime Achievement Award from Indigenous Media Initiatives:
Vincent Carelli
(Adeus, Capitão Vincent Carelli, Brazil, 2022, 178 min)
As a documentary filmmaker, director, editor, ethnologist, activist and human rights advocate, Vincent Carelli has dedicated his life to defending and empowering Brazil's Indigenous peoples. He founded, and still runs, Video nas Aldeias, an organization that offers training and equipment to Indigenous communities as a way to contribute to the narrative sovereignty of their stories and realities.
The Montreal First Peoples' Festival, in association with Indigenous Media Initiatives, presents Vincent Carelli and Video nas Aldeias with its Lifetime Achievement Award.
2022 TRILLION GRANT
Maïlys Flamand
For the diversity of the mediums she uses, for her sure-footed graphic and semantic exploration, for the simplicity of the straight and continuous line she embraces, for her exemplary community involvement demonstrated by the impact of her illustration demanding justice for Joyce Echaquan, Maïlys Flamand is awarded the 2022 Trillon Grant
2022 DUDE AWARD
Kwahiatonhk!
The 2022 Dude Award recognizing innovative and original approaches in the field of Indigenous arts and culture, is awarded to Kwahiatonhk! for the joyful audacity that the organization has shown in promoting Indigenous literature, namely by holding a First Nations book fair and creating a phenomenal literary bingo.