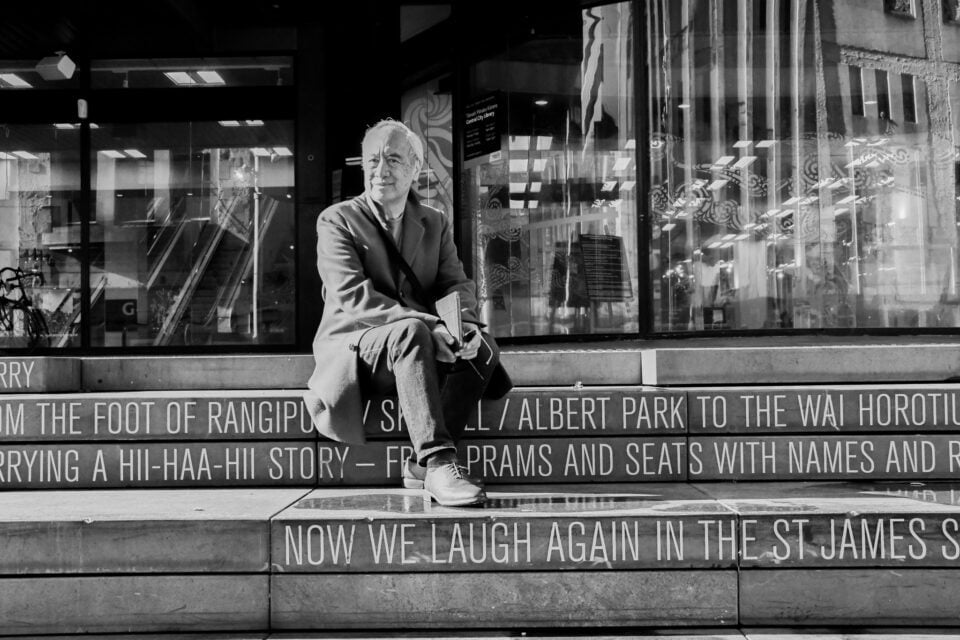 690, Rue Sherbrooke Ouest, Montréal, Québec, H3A 1E9.
Literary evening with Witi Ihimaera
An Evening in Conversation with Māori writer Witi Ihimaera  
Please join us for an evening in conversation with the great Maori writer Witi Ihimaera at the 2023 First Peoples' Festival international Présence autochtone. This literary night will take place on Friday, August 11, from 6-7:45pm, at the McCord Museum and on Zoom.
The conversation will be moderated by André Dudemaine, artistic director of the festival. Excerpts from Witi Ihimaera's literary work will be read by Wendat actor Charles Bender and other artists.
The literary evening is co-presented by the Festival international Présence autochtone, a project of Dr. Isabelle St-Amand at Queen's University, and the McCord Stewart Museum.
Where?
McCord Stewart Museum: 690, Sherbrooke West, H3A 1E9, Théâtre J. Armand Bombardier Room, accessible. RSVP
Zoom: RSVP
Free admission.
Witi Ihimaera (1944 – ), novelist, short story writer, anthologist and librettist, was born in Gisborne, New Zealand. He has the distinction of being the first Māori writer to publish both a book of short stories and a novel. He is of Te Aitanga-a-Māhaki descent, with close affiliations to Tūhoe, Te Whānau-a-Apanui, Ngāti Kahungunu, and Ngāi Tāmanuhiri, and links to Rongowhakaata, Ngāti Porou, and Te Whakatōhea. His family marae is the family house of the Pere family, Rongopai. Much of Ihimaera's fiction is based on fact, but his work is never simply autobiographical. His novel, The Whale Rider, has become an internationally successful feature film and Māori Boy: A Memoir of Childhood won the General Non-Fiction Award at the 2016 Ockham New Zealand Book Awards. Most recently, Ihimaera was honoured for his fiction with the 2017 Prime Minister's Award for Literary Achievement.
André Dudemaine (1950 – ), an Innu, has made a name for himself as a producer and cultural facilitator. He has taken part in community education projects in Abitibi-Témiscamingue (1974-1976), and produced several television programs broadcast on Radio-Québec's Quebec-wide network (1977-1984). A co-founder and chair of the Regional Cinema Week in Abitibi-Témiscamingue (1975), he produced Abijévis, an experimental short selected at Belfort Festival in France (1984-1986) and assisted Arthur Lamothe in production of the documentary feature L'écho des songes (1986-1988). He has received several awards on behalf of Land InSights, of which he is a founding member (1990) and director of cultural activities. He was one of the recipients of the First Peoples' Business Association's Mishtapew excellence award in 2001, 2002 and 2003. The Quebec National Assembly also awarded him the Jacques-Couture award for intercultural rapprochement (2002).
This evening in sponsored by the Queen's University, specifically by:
The Faculty of Arts and Science's Office of Equity, Diversity, Indigeneity, and Inclusion (EDII)
The Social Sciences and Humanities Research Council – Connection "Revisioning the Americas through Indigenous Cinema" project
The Department of French Studies
The Department of English
The Vulnerable Media Lab's "Minor Archives of the Americas" project.
The Department of Languages, Literatures, and Cultures