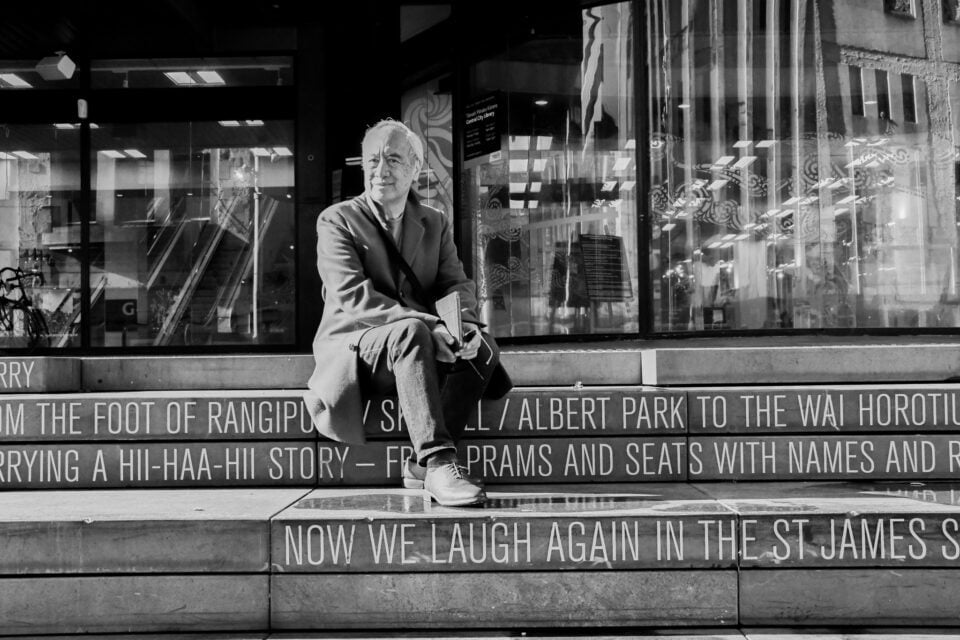 690, Rue Sherbrooke Ouest, Montréal, Québec, H3A 1E9.
Soirée littéraire avec Witi Ihimaera
Soirée littéraire avec l'écrivain māori Witi Ihimaera  
Nous vous convions à une soirée littéraire (en anglais) avec l'écrivain māori Witi Ihimaera le vendredi 11 août 2023 à 18h, au Musée McCord et sur Zoom.
La soirée sera animée par André Dudemaine, directeur artistique du Festival international Présence autochtone. Des extraits de l'œuvre littéraire seront lus par le comédien wendat Charles Bender et d'autres artistes.
Cette soirée littéraire est coprésentée par le Festival international Présence autochtone, un projet de recherche de la professeure Isabelle St-Amand à l'Université Queen's et le Musée Stewart McCord.
Lieux :
Musée Stewart McCord (690, rue Sherbrooke Ouest, H3A 1E9), salle : Théâtre J. Armand Bombardier, accessible aux personnes à mobilité réduite. Pour réserver. 
Zoom (il faut s'inscrire pour accéder à la rencontre)
Entrée libre.
Witi Ihimaera, romancier, nouvelliste, anthologiste et librettiste, est né à Gisborne, Nouvelle-Zélande. Il a la particularité d'être le premier écrivain māori à publier à la fois un recueil de nouvelles et un roman. D'origine Te Aitanga-a-Māhaki, il a des liens étroits avec Tūhoe, Te Whānau-a-Apanui, Ngāti Kahungunu et Ngāi Tāmanuhiri, et des liens avec Rongowhakaata, Ngāti Porou et Te Whakatōhea. Son marae familial est la maison de la famille Pere, Rongopai. Une grande partie de la fiction d'Ihimaera est basée sur des faits réels, mais son œuvre n'est jamais simplement autobiographique. Son roman, The Whale Rider, est devenu un film à succès international et son récit Māori Boy : A Memoir of Childhood a remporté le General Non-Fiction Award aux Ockham New Zealand Book Awards (2016). Plus récemment, Ihimaera a été récompensé pour son œuvre de fiction par le prix Accomplissement littéraire 2017 du Premier ministre néo-zélandais.
L'Innu André Dudemaine s'est fait connaître comme réalisateur et animateur culturel. Il collabore à des projets d'éducation populaire en Abitibi-Témiscamingue (1974-1976) et réalise plusieurs émissions de télévision diffusées sur le réseau national de Radio-Québec (1977-1984). Cofondateur et président de la Semaine de cinéma régional en Abitibi-Témiscamingue (1975), il réalise Abijévis, un court métrage expérimental sélectionné au Festival de Belfort en France (1984-1986) et assiste Arthur Lamothe pour la réalisation du long métrage documentaire L'écho des songes (1986-1988). Il reçoit plusieurs prix au nom de Terres en vues, dont il est membre fondateur (1990) et directeur des activités culturelles. Le prix d'excellence Mishtapew lui est notamment remis par l'Association d'affaires des Premiers Peuples en 2001, en 2002 et en 2003. L'Assemblée nationale du Québec lui décerne également le prix Jacques-Couture pour le rapprochement interculturel en 2002.
Cette activité bénéficie du généreux soutien de l'Université Queen's, plus particulièrement du :
Bureau de l'Équité, diversité, inclusion et autochtonie de la Faculté des arts et des sciences
Projet Connection du CRSH « Regards autochtones sur les Amériques »
Département d'études françaises
Département d'études anglaises
Projet « Archives mineures dans les Amériques » du Vulnerable Media Lab
Département de langues, littératures et cultures