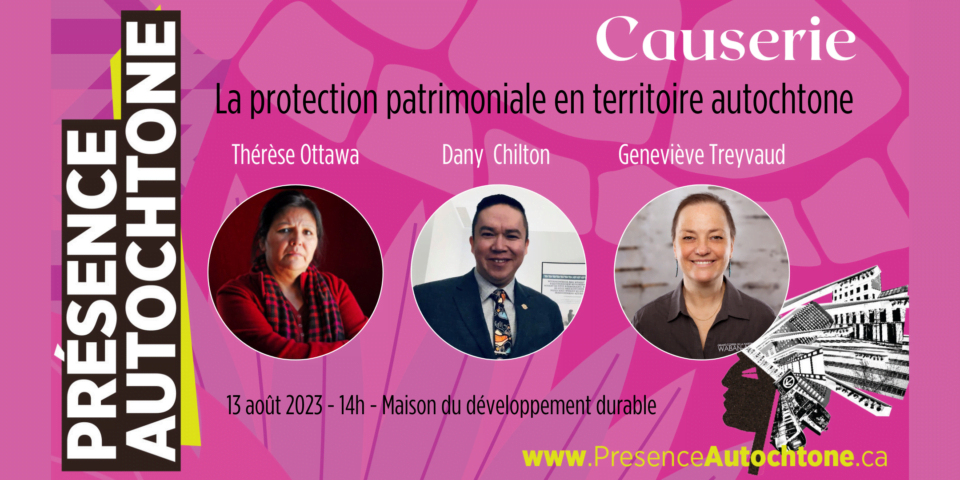 50, Sainte-Catherine Ouest, Montréal, Québec, H2X 3V4.
Talk\discussion : heritage protection on indigenous lands
Talk\discussion : heritage protection on indigenous lands with Thérèse Ottawa, Constant Awashish and Geneviève Treyvaud
To sign up : Eventbrite
Thérèse Ottawa
Atikamekw iskwew from Manawan. A Wikipedian since 2016, Thérèse Ottawa is one of the instigators of Aboriginal projects in Canada, notably Wikipetcia Atikamekw Nehiromowin. In the real life, she is a technician in multimedia, executive secretary, coordinator of the production center for the educational service of Manawan. She is the official referent of the Metapeckeka WikiClub and a member of the Wikimedia user group for North American Native languages. One of her passions is visual art, including land and aerial photography (drones) and filming at the NFB. Thérèse is involved in many activities on Nitaskinan territory with the youth and elders of her nation, such as supplying the Tapiskwan Sipi expedition, the Nanto masinatcikan photo contest and Motetan Mamo project.
Geneviève Treyvaud
Holder of a diploma in goldsmithing (HEAD-Geneva), a bachelor's degree in anthropology (UdM), a master's degree (UdM) and a doctorate in Archeology (ULaval/INRS ETE). I am a senior archaeologist at Ndakina Office of the Grand Conseil de la Nation Waban-Aki, associate professor at the Centre Terre Eau Environnement of the National Institute for Scientific Research (INRS-ETE). My work focuses on the pre-colonial and contact periods, and on the impact of European colonization on traditional technologies and ancestral territories of First Nations in the Northheast of Canada. At the Ndakina Office, my mandate is to develop archaeological research projects to better understand the ancestral occupation of the territory. In collaboration with the Ndakina office team, I see to the protection of the archaeological heritage in territorial consultations. I also work to document W8banakiak natural resource exploitation methods and production techniques of ancient tools. 
Dany Chilton
Coming soon