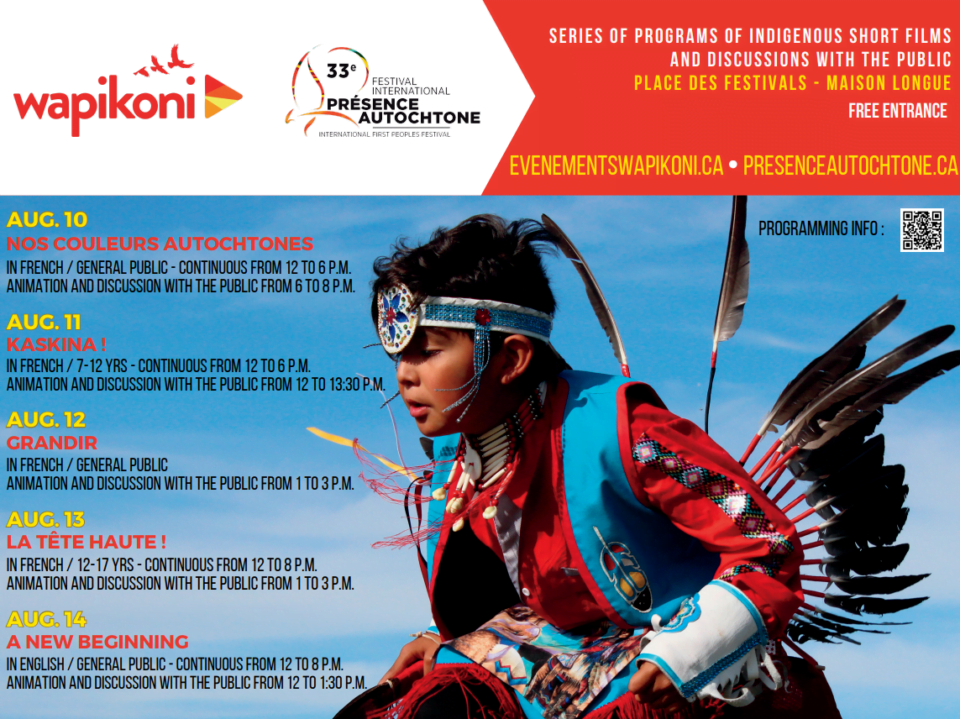 1499, Rue Jeanne-Mance, Montréal, Québec.
Longhouse programming
SERIES OF PROGRAMS OF INDIGENOUS SHORT FILMS AND DISCUSSIONS WITH THE PUBLIC
12 pm to 6 pm:
Loop projection of the program Nos couleurs autochtones. French OV.
6 pm to 8 pm:
Program screenings Nos couleurs autochtones, in the presence of ambassador Xan Choquet, innu from Mashteuiatsh.
AMBASSADOR
Xan Choquet (August 10-11-12, at Longhouse programming)
Xan Choquet is a Pekuakamiulnu (Innu from Lac-Saint-Jean) now settled in Montreal, at least for a few years. He is currently pursuing a Bachelor's degree in Cultural Action with a concentration in Native Studies at UQAM. In the near future, he will also begin a Master's degree in political science, with a focus on First Nations sovereignty and self-determination.
Education about the different aboriginal cultures here, as well as the different issues that affect them, is very important to him. He learns more and more about these issues every day, not only through his studies, but also through his activism and contacts with his community and with people from other Aboriginal communities.
For him, it's essential to make the voices and talents of aboriginal people heard, and to raise awareness among non-aboriginals of various issues they might not otherwise be aware of.