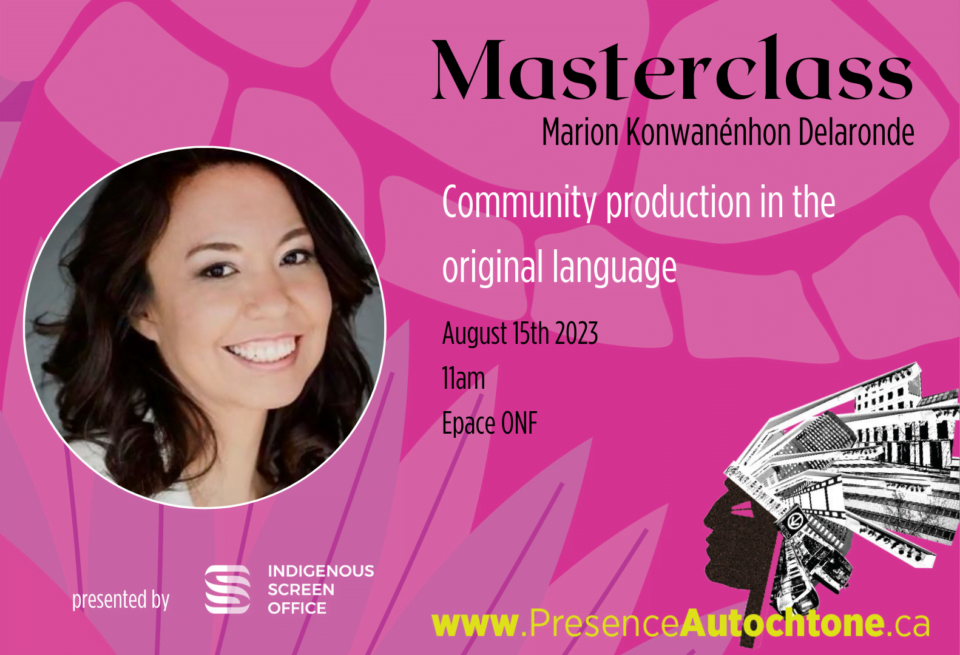 1500, Rue Balmoral, Montréal, Québec, H3A 2H7.
Masterclass community production in the original language avec Marion Delaronde
Masterclass en anglais avec Marion Delaronde dans l'Espace ONF présentée par BEA-ISO.
Pour vous inscire : Eventbrite
Élevée à Kahnawà:ke, Konwanénhon est titulaire d'un diplôme universitaire en langues et littérature et d'un B.F.A. en animation cinématographique de l'université Concordia. En 1999, elle a lancé une initiative communautaire nommée Teioiaks 2000, conçue pour aider les adolescents de la région à réaliser des courts-métrages. En 2004, elle obtient un diplôme de Kanien'kéha Ratiwennahní:rats, un programme d'immersion pour adultes ayant pour but de l'aider à améliorer sa maîtrise de la langue kanien'kéha. La même année, elle commence à travailler au Kanien'kehá : ka Onkwawén:na Raotitióhkwa Language and Cultural Center à Kahnawà:ke en tant que directrice de Tóta tánon Ohkwá:ri (un spectacle de marionnettes pour enfants en kanien'kéha diffusé à la télévision locale), puis en tant que directrice du Eastern Connection Film Festival. Konwanénhon crée des films d'animation indépendants (dont Skátne Ronatehiaróntie) et coanime Tewawennakará:tats, une émission de radio hebdomadaire destinée aux étudiants en Kanien'kéha. Elle est actuellement inscrite au programme de certificat en Foundations of Science à l'université Concordia.