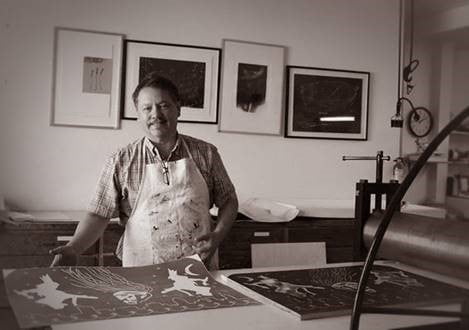 1499, Rue Jeanne-Mance, Montréal, Québec.
Martin Loft : photographie
Martin Akwiranoron Loft est né et a grandi à Kahnawake, en territoire Mohawk. Il est artiste professionnel depuis plus de 30 ans. Il est photographe, graveur et artisan. Il est également membre fondateur de l'Association des photographes Inuits et Indiens (NIIPA, 1985-2000), une organisation d'artistes autochtones influents qui a présenté "Visions", la première conférence internationale et exposition itinérante autochtone. Loft a exposé ses photographies, son artisanat traditionnel et ses gravures à l'échelle nationale et internationale, notamment au Musée national des Indiens d'Amérique, au Musée des civilisations, au Musée royal de l'Ontario, au Musée indien Iroquois, au Musée Mashantucket Pequot, au Musée McCord et au Centre national d'art et d'exposition de la République fédérale d'Allemagne, qui a récemment accueilli l'exposition On the Paths of Iroquois.
En 2017, il a participé à l'exposition d'art internationale Imago à Venise, en Italie. Loft a travaillé dans sa communauté natale de Kahnawake pendant 27 ans à titre de Superviseur des programmes publics au Centre de langues et de culture Kanien « kehá: Ka Onkwawén, où il a coordonné des activités de sensibilisation communautaire, notamment des ateliers culturels et historiques, des conférences universitaires et sur les arts, des ateliers d'art ainsi que des expositions d'arts visuels. Martin s'intéresse beaucoup à la langue, à l'histoire et à la culture Kanien « kehaka (Mohawk) et est diplômé du programme Mohawk d'immersion Ratiwennahnirats . Martin continue de promouvoir l'art dans la communauté autochtone par le biais de conférences d'artistes, d'ateliers de gravure, de sensibilisation aux arts et de développement communautaire dans le domaine des arts.