Who we are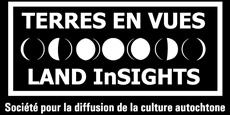 Founded in 1990, LANDINSIGHTS has gone through the turbulence of an exhaling growth. Each year, the founding members, André Dudemaine, Daniel Corvec and Pierre Thibeault have added an upright or a crossbeam to build a bridge between nations — a fine monument for the new millennium.
LANDINSIGHTS is guided by an eleven-member board with members from the Mohawk, Huron-Wendat, Abenaki, Innu and Cree nations.
LANDINSIGHTS is the driving force behind the First Peoples' Festival, making Montreal the nerve centre of Indigenous Creativity from the three Americas for ten days in August.
LANDINSIGHTS has proven able to create a space for affirmation and recognition, in its organisational structure and its activities. If the bridge we have built may still seem fragile, the confidence our many partners as well as artists in all disciplines have shown for eleven years gives its existence its full meaning and confirms its necessity in our eyes.
Visit Land InSights official website