AGORA OF UQAM, JUDITH-JASMIN PAVILLON > THURSDAY JUNE 16 AT 1 P.M.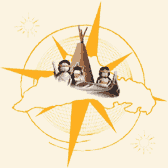 Today as in yesteryear, the Aboriginal peoples who are guardians of the sacred land extend a hand in welcome to newcomers who come from the world over. The project, Aki, welcoming land is one sign of peoples coming closer, in full equality and a spirit of celebration and sharing.
BUT FIRST, A BIT OF HISTORY...
It was still the time of myth, long after the Sky woman was carried on the turtle's back as she fell. From the depths of the great waters, the muskrat pulled up a bit of the earth to welcome her. Human sons and daughters of the sky could then set foot on habitable space. Then the carapace broke up into different pieces drifting off in the four directions. From then on humans were to live on separate continents.
In its current diversity, Montreal has once again become a microcosm expressing the primordial unity of the human species. On its space surrounded by water, it takes us back to ancient times and we children of the sky sit around the same fire.
As summer is born, come celebrate the reunion around the ceremonial drum. Aki, the Promised Land, is a welcoming place for all humankind. People representing brothers and sisters from the four horizons will be clad in the traditional robe and bedecked with signs that they belong to this land, the central space of the Great Turtle's carapace.
The drum beats out the measure of a joyful celebration. The aboriginal artists busy themselves with the bodies offered up to their brushstrokes. Symbolic scarifications and the revelation of colours express our joy of living in fellowship and harmony. We of the four directions hereby recognise our common membership in the vertical axis extending from sky to earth. We extend our arms to form the Circle of Life.
THE PARTICIPANTS
On the white stage, for the North, Ms Michèle Asselin, president of the Fédération des femmes du Québec.
At the East, the yellow stage welcomes Kalsang Dolma, principal character in the film Ce qu'il reste de nous and a Diaspora Tibetan.
Red, at the south, is the domain of Ivan Ignacio, an Aymara Aboriginal from the Andes Cordillera and an activist who has taken part in the struggle for the basic rights of Native people.
Finally, at the West, on the black stage, the high point of accomplishments and recognition, Mr Dan Phillips, who founded la Ligue des Noirs du Québec.
Their long ceremonial robes will be ablaze with the colours of peace and friendship.
Mi'kmag storyteller Bob Bourdon (Robert Seven Crows) is the soul and guide to Aki. He opens the pathways and lights the fires.
With Northern Cree, group of drums and singers whose chants will punctuate Aki, Welcoming Land.