Film and video
Illuminating Ourselves at the Fire of Radiant Hope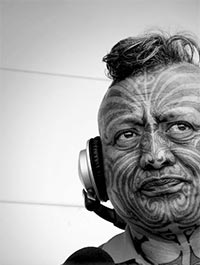 MEET THE PRICK
Overview of the 2007 Film and Video Selection
The First Nations screen has always been a space for speaking and memory, but a paradigm shift has taken place, meaning it has now also become a place for the emergence of an autonomous vision which is as sure as emerging dawns. A new generation no longer wishes to simply play a victim's role but intends to take the lead in a story of its own. The wind has turned. Aboriginal cinema was long a cinema of survivors, taking a sorrowful look backwards. Now the time of the seers and sentinels of the future has come, for whom this future must start here and now.
TURNING PERSPECTIVES AROUND AND TAKING A FRESH LOOK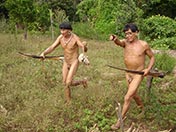 PIRINOP, MEU PRIMEIRO CONTATO (Pirinop : My First Contact)
In Brazil, in 1965, the Boas brothers in their saving humanism led the Ikpeng to the great Upper Xingu reserve where their lives would no longer be threatened by settlers. A film crew followed and filmed this lifesaving operation. Today, the account of the Boas' action on film has become an important chapter in the story of the Ikpeng people, who are no longer merely calling for survival but sovereign rights to the speech and lands of their ancestors and their enduring values. Pirinop, meu primeiro contato (Pirinop : My first contact), is an exemplary document produced by the Video nas Aldeias workshops. Their very act of video production and their historical discourse have become a means for a people to recover control over its identity and strength.
Young Navajo filmmaker Bennie Klain looks beyond the celebrated beauty of Navajo carpets to the stories of the weavers in all their human, social and economic complexity. Weaving Worlds is a tribute to a humble, proud form of resistance. These Mothers Courage are models of determination and artistic mastery at their looms. Through their tireless gestures, they have succeeded in passing the tools of their empowerment down to future generations.
In Quebec, the young video artists who got their start with Wapikoni Mobile and then were mobilised in La course autour de la Grande Tortue (Race around the Great Turtle) also dare take fresh and caustic look through shorts expressing ambiguous feelings towards their own lives, such as Shanouk Newashish's hilarious Le Premier du mois Kevin Papatie's incantatory Wabak or the introspective Désert d'hiver by Jonathan Germain, Wendy Germain, Nicolas Paradis and Jean Philippe Robertson.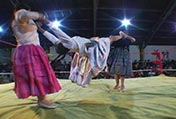 FIGHTING CHOLITAS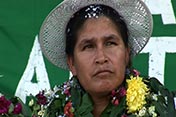 HARTOS EVOS AQUI HAY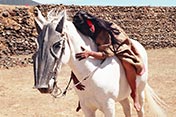 ERENDIRA IKIKUNARI
Turnabout is fair play for the Amerindian women wrestlers who go into the ring (Fighting Cholitas) while dancers reinvent choreographies (such as Byron Chief Moon in Butte). In any case, the freedom to use all means for empowerment is a constant theme. Some take provocative liberties (Plethora of Idiots, Meet the Prick), while others are ironic and funny (Minor Disturbance), poetic and evocative (Xiwhu), personal and dreamlike (Power of a Horse), or physical and sporting (En-Why-Oh 2006 by Wesley Woods and Les Jeux de mes ancêtres by Jason Brennan). On a more strictly political level, Hartos Evos aqui hay and El Espiritu de Tupaj reveal the hopes raised by Evo Morales' election in Bolivia.
From Mexico, the feature film Erendira Ikikunari tells the story of a Mexican Joan of Arc from Michoacán who, despite the defeatism of King Tangoxoán II, raises an army against the Spaniards. Through this film's subject, referring to resistance to the invader, the use of the Purepecha language, and even more through its open-ended form, drawing upon codex illustrations, Aztec frescos, Jodorowski's films and a Fellinian universe, it has provided an example of current First Nations' cinema's iconographic modernity, able at last to create striking images free of any hackneyed clichés. (And old Mel Gibson, with his bloodthirsty and ridiculous Apocalipto, knows where he can get off!)
THE TRAILBLAZERS
A handful of pioneering artists blazed these roads to freedom. And First Nations Cinema intends to build on this memory.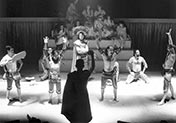 J'ENTENDS CRIER LE VENTRE DE LA TERRE
J'entends crier le ventre de la terre recalls the 20 years of Ondinnok Theatre, a Montreal troupe that has sustained a demanding creative theatre against the blows and arrows of outrageous fortune.
Dream Makers lets Canadian Aboriginal actors have their say, in particular veterans such as Tantoo Cardinal, Graham Greene and August Schellenberg, whose artistic efforts allowed a new vision of Amerindian characters to emerge in film and television and paved the way for Nathaniel Arcand and Dakota House. (Incidentally, Tantoo Cardinal is acting in the Canadian feature film Unnatural and accidental, based on the missing women in the Vancouver Red Light district).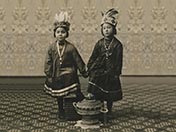 WABAN-AKI, PEUPLE DU SOLEIL LEVANT
Kin, a brilliant theatrical choreography featuring young Aborigines from ten to twelve years old in breathtaking performances, owes a debt to Stephen Page, a choreographer, dancer and director who founded the Bangarra Dance Theatre. Also from Australia, the astonishing film William allows us to discover the breadth of Aboriginal actors' talents. They have succeeded in expressing contemporary reality as well as their people's ageless soul.
In Chile, community media workers and video artists have borne the banner of Mapuche hopes, even in the dark days of the dictatorship: De la Tierra a la Pantalla bears tribute to their tenacity.
And speaking of trailblazers, we certainly can't overlook filmmaker Alanis Obomsawin! This year's festival takes a new look at the lovely Wabanaki, peuple du soleil levant.
ANOTHER WORLD IS POSSIBLE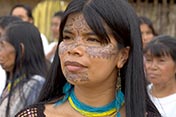 I DEFEND THE JUNGLE
This eruption of First Nations expressions in film is an international phenomenon. Festivals such as First Peoples' Festival have become forums for meetings and exchanges among producers and filmmakers from many lands united by the same urge to create and by a commitment to make their works share in the process of emancipation of the world's aboriginal peoples. UNESCO has offered this convergence a name and symbol. Las Camaras de la diversidad, a project networking the world's Aboriginal video artists will be officially launched in Montreal, making this city more than ever before a focus for Man and His World — and Woman and Hers — in June 2007. This will make it possible to bring together in a video and film other, possible worlds, featuring video artists as diverse as Ecuadorian Eriberto Gualinga (I Defend the Jungle, on the struggle against a petroleum company's invasion of the Sarayucu people's lands), Mexican Filoteo Gomez Martinez (Dulce convivencia, about traditional sugar production in his Mixe village), Peruvians Quilla Nahui Ccencho (Illary Qulla: luz de luna, about young Aboriginals leaving for the city) and David Hilario (Dia para un cuento, on oral tradition).
WOUNDS OF MEMORY
And yet the cruel wind of History has swept over the first humans on our earth. Decimated by a series of bacteriological tsunamis, then uprooted from their lands by the conqueror's laws, impoverished by the destruction of the environment they depended on, the last straw was the concentration camps, politely called residential schools, where their children were enrolled by force so that they would definitively forget who they were. And people still bear witness.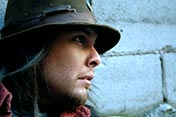 133 SKYWAY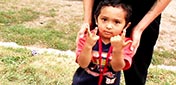 RIDING WITH GHOST
Unrepentant by Louie Lawless sets forth an unrelenting indictment and does not shy away from speaking of genocide to describe the massive enrolment of Amerindian children in residential schools where far too many died.
Le Pacte by Yvon Dubé and Erica Pommerance plunges us into the thorny legacy this history has bequeathed to communities: the Atikamekw have the highest suicide rate in the land. Community leaders must take action to turn these dramatic statistics around.
Donde acaban los caminos, a feature film inspired by Mario Monteforte Toledo's novel, is a romantic drama that takes us to the heart of early 20th-century Guatemala. Social conventions and pressures conspire against the love story of a white physician and a young Mayan woman, whose two worlds are hermetically sealed off from one another.
From the depths of despair, redemption remains possible. This is the theme of 133 Skyway, a feature film by Randy Redroad, telling the story of a musician down and out on the streets of Toronto) and Riding with Ghosts, a documentary about Lakota manhood caught between a warrior's instincts and an aspiration to peace of the soul.
ENVIRONMENTAL DEFENCE
Since First Nations peoples often live in vast natural expanses, they are in the vanguard of environmental struggles.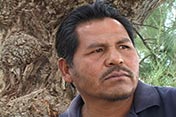 DÉCHARGE DE DÉCHETS TOXIQUES EN TERRITOIRE PAPAGO
Trespassing depicts Shoshone people in Nevada opposing the use of their sacred sites in the Mojave Desert as a nuclear dumping ground. A similar struggle in Mexico is narrated in Décharge de déchets toxiques en Territoire Papago.
As for the Ojibway people, they are mobilising against attempts to genetically modify wild rice, still produced and harvested the traditional way in Manoomin: a Minnesota Way of Life. In the Philippines, Pildisan's Gold relates the struggle of the Igorot nation to protect their terraced gardens against a ruthless mining development threatening their traditional farming methods.
TWO-SPIRITED PEOPLE: BODY AND SOUL
We also see an upsurge in resistance and affirmation among a minority within the minority, First Nations gay and lesbian people.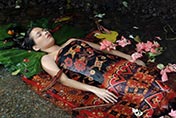 TULI
A magnificent feature film comes to us from the Philippines, filmed by Kanakan Balintagos, who already gave us Basal Banar (Séquences award for best documentary at First Peoples' Festival 2005) and The Blossoming of Maximo Oliveros (Zénith d'or for first feature film, FFM 2005). Tuli takes us to the life in the midst of a traditional village where two women's commitment to live their mutual love in the open will lead to strife.
Byron Chief-Moon: Grey Horse Rider paints a sensitive portrait of the great Canadian choreographer who explains that his Two-Spirited identity is more than just a sexual orientation but also a way of living his Amerindian identity, a source of artistic inspiration and a love story that led him to found a family (he and his life partner have adopted children) BYRON CHIEF-MOON AND MARGO KANE IN ATTENDANCE.
Two-spirits: Back into the Circle by Julien Boisvert, a video filmed in Montreal and Kahnawake, aims to be the first episode on a larger project on this topic.
First People's Festival 2007, the festival that makes a difference.
Montréal First Peoples' Festival 2007 at Cinémathèque québécoise
June 13, 14 and 15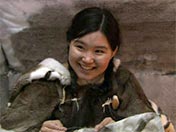 LE JOURNAL DE RASMUSSEN
An anthology session gives us access to Dana Claxton's video work. Claxton is a Lakota artist who takes an ironic and ceremonial look at the scars left by history and who traces new, initiatory healing paths with a pared-down grace.
And intersecting visions: Le Journal de Rasmussen by Zac Kunuk is the great Inuit filmmaker's transposition of the account of the Danish explorer's tribulations in the Canadian Far North. The day after, Les Noces de Palo, based on a scenario by the same Rasmussen, is a story of romantic rivalry among Greenland Inuit filmed by Danish filmmakers.
EAGLE VS. SHARK PREMIERED AT OPENING NIGHT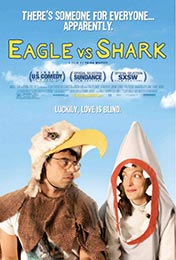 EAGLE VS SHARK
Taika Waititi's Eagle vs Shark will be screened at its Canadian premiere for the guests at First Peoples' Festival 2007's opening night.
Two short subjects (screened in previous editions of First Peoples' Festival) confirmed Taika Waititi's status as New Zealand cinema's rising star: Two Cars one Night (Oscar nomination for best short drama) and Tama Tu.
At a Sundance Institute writing workshop, Eagle vs Shark screenplay took shape. Ainsley Gardner from Whenua Films (a company devoted to emerging Maori filmmakers) made sure the screenplay went into production. "I wanted to bring out the beauty of being awkward, which is something you don't usually see in movies," says Taika Waitii of what he set out to do in Eagle vs Shark.

Special Program at Grande Bibliothèque
GRANDE BIBLIOTHÈQUE
475, de Maisonneuve Blvd. East
During First Peoples' Festival, BAnQ salutes the scope of Aboriginal creation
Tuesday, June 19, from 7:30 p.m. to 9:30 p.m.
The Wapikoni Mobile: spawning Aboriginal creativity
Developed by filmmaker Manon Barbeau in association with the National Film Board, the Wapikoni Mobile is a travelling studio for training and creation in video and music that allows young Aboriginal people to express themselves. Since being created in 2004, the studio has travelled thousands of kilometres and produced no fewer than 75 films. An exceptional adventure, it has also inspired the creation of three permanent studios. During this evening of tribute, the public will be able to sample the productions of the mobile studio and talk to Manon Barbeau and her team.
Auditorium, street level
No reservation required
Wednesday and Thursday, June 20 and 21, from 6:30 p.m. to 9:30 p.m.
The Wapikoni Mobile: a 65-minute look at Aboriginal Québec
Continuous screening of a compilation of films dating from 2006 directed by the young Aboriginal filmmakers of the Wapikoni Mobile.
Room 4.130, Level 4
No reservation required (20 places)
At l'Espace Jeunes
Saturday and Sunday, June 16 and 17, from 1:30 p.m. to 2:30 p.m.
The Abenakis: the people of the rising sun (For children aged 7 to 13)
The magnificent ambassador of Abenaki culture Nicole Obomsawin will enchant children and grownups with her stories, chants, love of dance and special knowledge of traditional objects. Presented in French.
Inimagimô theatre - Places limited to 70 (children and adults)
Passes will be available at the service desk of the children's library (Espace Jeunes), Level M, starting on June 2.
Sunday, June 17, from 3 p.m. to 4:30 p.m.
Ciné-Boukino: the way of the spirits (For children aged 8 and over)
A chance to have another look at three episodes from the television series Légendes indiennes [Indian legends], broadcast in the 1980s, in which Guijek travels to the land of the spirits to bring his wife Waba back to life. Presented in French.
Inimagimô theatre - Places limited to 70 (children and adults)
No reservation required (first come, first seated)

Admission Fees
NATIONAL FILM BOARD
Badge sold at the NFB
With the purchase of a badge at $5, you will only pay $2 for each session
CINÉMATHÈQUE QUÉBÉCOISE
$7 a person $6 for elders and students
CENTRE D'ARCHIVES DE MONTRÉAL
$5 or $2 with badge
CAFÉ L'UTOPIK
Free
GRANDE BIBLIOTHÈQUE
Free
KATERI HALL
Free
SOCIÉTÉ DES ARTS TECHNOLOGIQUES [SAT]
Free (for movies only)
MUSÉE MCCORD
Admission to the films is free with your McCord Museum entry badge, or with a badge or copy of the First Peoples' Festival 2007 program.